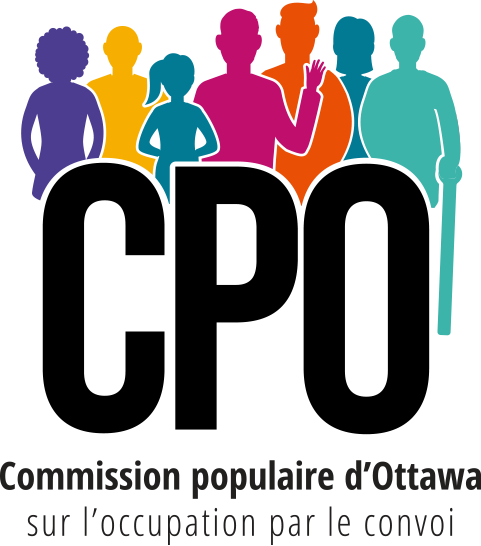 OTTAWA (Thursday, Nov. 24 2022) — The Ottawa People's Commission on the Convoy Occupation (OPC) is announcing its final round of public hearings to gather testimony from Ottawa residents about the impacts of this year's trucker blockade.
OPC is also launching a digital timeline of the convoy occupation spanning mid-January to mid-March.
"We're making a final push for people to come forward to share their stories," said Gaëlle Muderi, the OPC Project Coordinator. "And we're making a special effort to reach out to those in the community we haven't heard from yet."
The final series of public hearings are scheduled to take place as follows:
Thursday Nov 24, 2 – 4:15pm – online
Wednesday Nov 30, 7 – 9:15pm – online
Tuesday Dec 6, 7 – 9:15pm – online
Wednesday Dec 7, 7 – 9:15pm – online
Saturday Dec 10, 2 – 4:15pm – in person at Centre Pauline-Charron, 164 Jeanne Mance St, Vanier
Residents wishing to appear before the Commission are invited to register through the OPC website, opc-cpo.ca.
OPC is also creating a crowd-sourced digital timeline of the occupation, inviting residents to submit their photos, videos, and social media posts.
"We're really excited to launch the timeline because lots of local residents and businesses relied on social media to keep informed and stay safe during the three-and-a-half weeks of occupation," said Muderi. "And we know there are powerful interests trying to deny people their own reality so it's important we capture and archive this evidence so it's not lost."
The timeline, which will grow daily as new material is added, can be viewed on the OPC website at https://www.opc-cpo.ca/#timeline.
The OPC has already heard from more than 100 residents through public hearings, community consultations, and written submissions. Community members are encouraged to continue sharing written accounts of their experiences during the occupation and proposals for remedial action after public hearings end. The Commission will release an interim report compiling experiences from the community early next year to mark the anniversary of the convoy. A final report including recommendations will follow in the spring.
The Commission is funded by donations from the public, foundations, businesses, unions, and local agencies committed to rebuilding and renewing our community. Donations can be made at opc-cpo.ca.
For more information, visit opc-cpo.ca or contact:
Gaëlle Muderi, OPC Project Coordinator
[email protected] or 343-451-6352
Rachel Carmichael Campbell, OPC Communications Officer
[email protected] or 343-451-6557