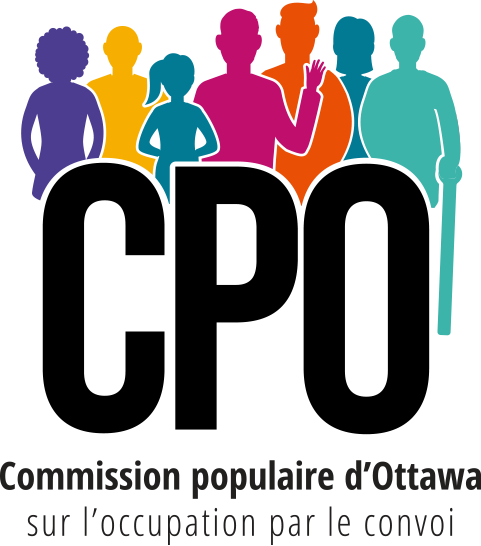 OTTAWA (Thursday, Nov. 3, 2022) — The Ottawa People's Commission on the Convoy Occupation is hosting an in-person public hearing on Saturday November 5th to gather further testimony from local residents who were harmed by last winter's trucker blockade of downtown Ottawa.
The latest session of the Ottawa People's Commission follows three weeks of hearings at the federal Public Order Emergency Commission that have painted a picture of police confusion and incompetence during the convoy occupation, as well as in-fighting and paralysis among municipal officials. While some testimony from local citizens and business owners has been heard at the Rouleau hearings, it has been overshadowed by the extensive time and attention given to incoherent, contradictory and self-justifying statements given by convoy organizers.
The OPC is a grassroots inquiry into the severe and lingering impacts of the convoy occupation. The hearings are led by four distinguished commissioners: housing rights advocate Leilani Farha, human rights lawyer Alex Neve, social justice advocate Debbie Owusu-Akyeeah and author and human rights activist Monia Mazigh. To date, the People's Commission has held six hearings — including two previous in-person and four online sessions — during which more than 30 witnesses have described their experiences of the convoy occupation of Ottawa in January and February 2022.
One of those sessions heard from persons living with disabilities about how the disruptions caused by the three-week shutdown of central Ottawa affected their lives. Another hearing gave convoy supporters a chance to express their views.
Saturday's OPC hearing will take place from 1 p.m. to 3:15 p.m. at the Jack Purcell Community Centre, located in Centretown at 320 Jack Purcell Lane at Elgin Street.
Other upcoming hearing, to be held online via Zoom, are scheduled for:
Residents who wish to appear before the Commission at public hearings are asked to register through the OPC website, opc-cpo.ca. Dozens of written submissions have been received to date and community members are encouraged to join in sharing their own written accounts of their experiences during the occupation. As well, the Commission welcomes proposals for redress and remedial action.
The Commission is funded by donations from the public, foundations, businesses, unions, and local agencies committed to rebuilding and renewing our community. Donations can be made at opc-cpo.ca.
For more information visit opc-cpo.ca or contact:
Gaëlle Muderi, OPC project coordinator
[email protected] or 343-451-6352